The early years of Reliant
by Dan Lockton
Reliant was born out of the Raleigh Cycle Company's 1934 decision to 're-focus on core competencies', as modern MBA-speak might put it.
Raleigh, based in Nottingham, had expanded its successful cycle business into motorcycles after the First World War (with a few brief flirtations with other types of motor vehicles), and in in 1930 had acquired the rights to the Ivy Karryall, a three-wheeled van using the forks, 348cc engine and fuel tank of a Raleigh motorcycle mounted in side frames which carried a chain-driven rear axle (with differential). Raleigh relaunched the Karryall as the Raleigh Light Delivery Van, or LDV, in 1931, with a 598cc engine and a 5cwt (560 lb) payload.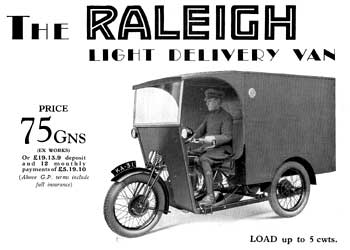 The 1931 Raleigh LDV. The motorcycle origins are clear: the driver/rider sat centrally, astride the engine.
While the launch of the Austin Seven in the 1920s had wiped out many 'cyclecar' manufacturers, there was still a niche for three-wheelers since they enjoyed considerable tax and licensing advantages -- a three-wheeler such as the LDV, weighing under 8cwt unladen, and with no reverse gear, could be driven by a 16 year-old and was taxed at just £4 per annum. The LDV (and similar vans such as the James and Stevens) thus became a kind of enhanced 'delivery-boy's bicycle' for many small businesses, and with a top speed approaching 50 mph (and 45 mpg economy) it offered many advantages compared to more 'conventional' delivery vans.
Tom Lawrence Williams, who had joined Raleigh's Motor Department in 1930 after having previously worked for Triumph and Dunelt, continued the development of the LDV range throughout the early 1930s -- a more refined version was announced towards the end of 1931 with a variety of different body styles, and in summer 1932 a 3-seater passenger version was put on sale in the UK, with both closed saloon and open tourer bodies available, although this was something of an experiment for Raleigh and there was little promotion for this model. The LDV was further improved for 1933, with a steering wheel rather than handlebars and a floor-mounted accelerator pedal.

The Raleigh Safety Seven
The market for passenger three-wheelers was fairly small and dominated by Morgan, BSA and Coventry-Victor, but all of these were limited in their carrying capacity due to their single rear-wheel layout, and the focus of the ranges was on sporting models where cornering ability was important.
Inspired by the more sedate potential of the passenger version of the LDV, Tom Williams designed a more substantial four-seater three-wheeler car for Raleigh, with a fully enclosed aluminium alloy car-style tourer body (over an ash frame) and a new V-twin 742cc engine with drive shaft to the rear rather than chain. Launched in 1933, the name Raleigh Safety Seven was adopted so that the new car was clearly placed at the bottom end of the Austin Seven/Morris Eight market, as a 'proper' car rather than a cyclecar. A saloon version followed in 1934. At the same time as the introduction of the Safety Seven, a larger-capacity three-wheeler van, with 8cwt payload, was also introduced alongside the 5cwt LDV.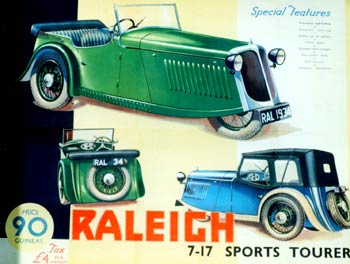 The 1933 Safety Seven, or the '7-17' as this brochure describes it: 17 bhp output, but only 7 HP according to the 'RAC formula' based on piston stroke. HP tax did not apply to 3-wheelers, but the designation allowed comparison with four-wheelers such as the Austin Seven and Morris Eight.
Despite the promise (and reasonable market success) of these new models, Raleigh's management nevertheless began to consider withdrawing gradually from all its motor vehicle activities in order to concentrate entirely on its bicycle products, as the company was taken public as Raleigh Cycle Holdings.

The first Reliant 'girder-fork' vans
Tom Williams -- by 1934, Chief Designer for Raleigh's Motor Department -- saw that the writing was on the wall for him and his colleagues, and decided to take the brave step of setting up his own business to carry on three-wheeler development and production. He therefore left Raleigh, and in the summer of 1934, took out a loan from Barclays Bank and set up a design office in his garden shed in Tamworth, Staffordshire.
Other Raleigh colleagues became interested in Williams' venture as the Motor Department was wound down (all production finally ceased by 1936), most notably E.S. 'Tommo' Thompson, the repair shop foreman, who left Raleigh within a few of months of Williams and moved house (with his wife and children) from Nottingham to Tamworth.
Together, over autumn 1934, they built the prototype of the new vehicle: incorporating a number of Raleigh parts and with a 600cc JAP single cylinder air-cooled engine which could run on the cheapest grade of petrol, the 'Reliant', as it was named, was a simple three-wheeler van along the lines of the lines of the original LDV, with chain drive, handlebar steering and the driver sitting centrally. After feedback from a number of local traders (potential customers) to whom the prototype was shown, the prototype was progressively refined, with a conventional steering wheel and an attractively styled van body made from aluminium alloy sheet over a wooden frame, giving a capacity of 62 cubic feet and a 7cwt payload.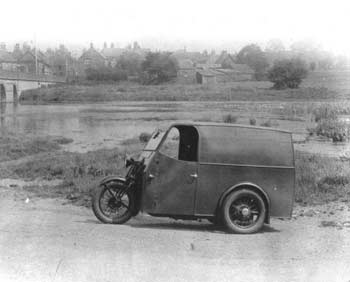 The Reliant 7cwt prototype on test by The Commercial Motor magazine in 1935. An average of 54.4 mpg was returned.
Tom Williams rented a dilapidated former Midland Red bus garage on the southern side of the A5 trunk road (the Roman Watling Street) at Two Gates, south of Tamworth town centre, and an adjacent brick-built five-storey school boot factory, and together with Tommo Thompson and Reliant's first employee, one Baden Powell, built wooden offices, benches and an assembly track for the vans during spring 1935. To provide some income during the company's early days, two petrol pumps were installed by the roadside.
The first production Reliant 7cwt 'girder-fork' van was delivered to a local customer in June 1935, and The Reliant Engineering Company (Tamworth) Limited was formed soon afterwards, with a number of people joining the company, both production workers and staff. Whilst sales over the summer gradually built up, they tailed off as autumn 1935 wore on, and in response to comments from customers, Williams and Thompson began to develop a more substantial model with larger capacity -- "something approaching a car-type vehicle" in Williams' words.
The new, larger Reliant 10cwt -- whilst similar in external appearance to the 7cwt model -- now featured a more car-like driving position to the right-hand side of the engine rather than astride it, shaft drive to the rear axle and a water-cooled (thus quieter) JAP V-twin of 747cc and 18 bhp. An electric starter was available as an alternative to the 7cwt's kick-start, and with Reliant now making its own body panels in-house, better quality control could be achieved, as well as permitting more variants to be offered. Alongside the van, then, a pick-up and flat truck were also available. (The 7cwt model remained available alongside).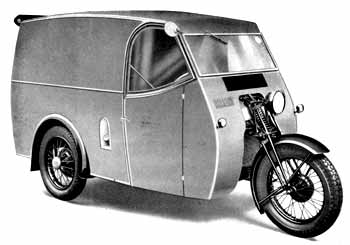 The Reliant 10cwt V-twin went on sale in March 1936.
The new model proved successful, and weekly Reliant production increased gradually from 3-5 vehicles in 1936 to 8-10 in 1937 -- the factory was working at full capacity, and whilst still clearly a very small operation by wider motor industry standards, Reliant products were gaining recognition with small fleet orders starting to come in.
The product continued to be developed, with the aim being to give similar levels of refinement to a car-derived van. Accordingly, from early 1938 Reliant adopted the Austin Motor Company's 4-cylinder 747.5cc engine (as used in the Seven Van) for both sizes of van, which enabled the rated payloads to be increased to 8cwt and 12cwt and gave much quieter and smoother performance. Arriving from Longbridge complete with all ancillaries (including starter motors and gearboxes), the move to Austin engines meant that Reliant could free up factory space to increase the number of vehicles being built simultaneously, which allowed fleet orders such as those for the railway companies to be dealt with more quickly.
However, Reliant soon learned that with the cessation of Austin Seven van production in 1939, the engine would also no longer be produced, and -- needing to fulfil orders placed for Reliants with the Austin engine specification, yet with no equivalent engine available commercially -- the company took the ambitious step of designing and building its own engine, with Tommo Thompson undertaking much of the work. Tom Williams was increasingly enthusiastic about Reliant becoming, indeed, self-reliant as far as possible, and one of his many maxims, "Don't pay anyone else to make what we can make ourselves" was -- applied selectively -- to serve Reliant well in the decades to come (it was also at this time that the company bought the factory site from the landlord).
Very similar to the Austin engine (though it is unclear to what extent Austin authorised this), the Reliant sidevalve engine was also a 747.5cc four cylinder unit, though built using smaller-scale manufacturing techniques than Austin had employed at Longbridge (for example the Reliant crankcase was sand-cast rather than die-cast).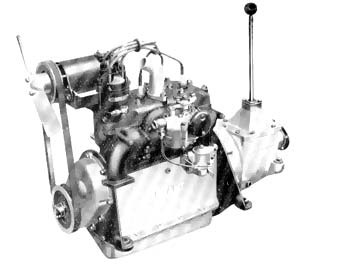 The 747.5cc Reliant sidevalve engine (with gearbox) as pictured in an early post-war brochure
The first Reliant engine ran for the first time on Sunday, 3rd September 1939, just a few minutes before war was declared, and 80 units were produced and fitted to vehicles before the factory was turned over to armament production in 1940, there is believed to have been some limited use of the Reliant engine as a proprietary unit on floating platforms during the war. Reliant's own wartime acitivites included the production of more than 1.5 million parts including Norton motorcycle frames, parts for Frank Whittle's early jet engines, and work for Alvis and Armstrong-Whitworth.

After the war
Reliant started production again, initially of the 8cwt, in March 1946 (the 12cwt returned in 1947), with production capacity receiving a boost from the construction of a new body shop that summer, and the company became an important employer for Tamworth (which had lost 340 men during the conflict), with many ex-servicemen joining, including Tom Scott who later became Reliant's Sales Director.
As production expanded, Reliant made its first acquisition -- The Morson Engineering Company Limited, a Coventry gear-cutting firm, whose equipment was installed at Two Gates and which allowed Reliant to produce its own gearboxes. Reliant now produced virtually all the parts of its vehicles, except for brakes, instruments and electrical parts.
During the war, car journeys had been restricted by law to essential users only, such as doctors. Motorcycles, on the other hand (which included three-wheelers) had not been restricted, and so there had been renewed interest in second-hand three-wheelers such as the Raleigh Safety Seven, BSA and Morgan models. Equally, in the immediate post war rationing period, the merits of economical three-wheelers occurred to many, with Lawrie Bond's "1/8-litre shopping car" being put into production as the Bond Minicar by Sharp's Commercials of Preston, and passenger conversions of Reliant vans being increasingly seen (as a commercial vehicle no Purchase Tax was applicable, provided the passenger conversion was done after purchase).
Indeed, a Reliant van converted to a four-seater convertible (with an Austin Seven folding hood) by Major A. Lewis Jones, and rallied in motorcyle trials (later including a gold medal in the 1952 Exeter Trial) received support from Reliant itself, including the provision of an improved engine and the testing of a turbocharger.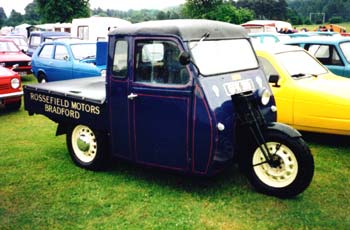 The Regent 10cwt was introduced in 1950. This is a well restored 1952 truck variant.
Development of the Reliant design continued, and in 1950 the Regent was announced, featuring a mildly restyled body design, a steel dashboard, pressed steel wheels and an improved lubrication system for the engine; the rated payload was reduced to 10cwt. Body options on offer included a milk float and mobile shop. With its payload reduced to 6cwt, the smaller Reliant continued on offer alongside the Regent, and a 6cwt Prince Regent model, resembling a smaller version of the Regent, was also offered. Exports, in both fully built and knocked-down form, were starting to become a more significant part of Reliant's business, and as will be discussed in a later article, the first steps towards the 'Package Deal Motor Industry' were taken at this time in Ireland and Israel.
By this time, Reliant was preparing to move into the passenger car market with the Regal and whilst there was some minor development of the girder-fork vans alongside the Regal, such as the restyled Regent Mk. II (below), the smaller 5cwt commercial variants of the Regal now effectively took over much of this role. The last girder-fork van, a Regent, was built in 1956.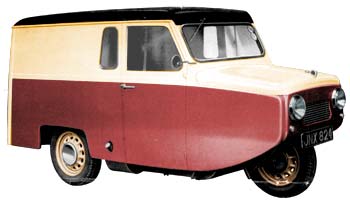 The Regent Mk. II, introduced in 1954 was an interesting attempt to give the girder-fork vans a more modern appearance, using the front-end styling of the Regal Mk. II passenger car, although few were sold.
© Dan Lockton, March 2006 | dan@danlockton.co.uk

---
For more information, see:
Lockton, D. Rebel Without Applause: Reliant from inception to zenith, Bookmarque Publishing, Minster Lovell, 2003 (ISBN 1870519647)